From Spring Term in Year 2 at King's Academy College Park, reading lessons are taught using the "Destination Reader" strategy, which focuses on explicit teacher modelling and shared discussions about texts whilst continuing to embed the skills of fluency at a suitable level for their year group. Children deepen their understanding of the texts they read through the systematic use of a series of strategies and language stems. The approach encompasses the key principles of effective reading provision and fully meets the requirements of the National Curriculum. It also builds a culture of reading for pleasure and purpose. Teachers model the skills of comprehension with the whole class, then use paired or group reading to practise fluency, before discussing and completing a comprehension or reflection task known as a 'Selfie'. Every lesson input will discuss and revisit new vocabulary and enable children to continue developing their decoding skills as new language is introduced. The skill of independent comprehension is discretely taught on a weekly basis, giving the children regular opportunities to become independent readers and build the stamina required to succeed in formal reading assessments.
Destination Reader focuses on these key principles which we embed within the school:
Enable quality experience

Promote enjoyment

Increase in reading mileage

Build firm foundations

Develop thinking and understanding

Make talk central
Destination Reader lessons focus on explicitly teaching one of these seven DR stems:
Predicting - Using background knowledge, the text or context.

Asking Questions - Asking (not just answering) open questions to deepen understanding.

Clarifying - Recognising when words, phrases or text are not understood and using a toolkit to help.

Summarising - Identifying key information or ideas, digesting and reducing. Inferring - Being a detective and using clues which often relate to characters, settings or mood.

Making Connections - Using personal experience and knowledge of other texts/the world.

Evaluating - Thinking about the author's technique, use of features, language, spelling, punctuation and grammar.
Destination Reader lessons are between 35 and 50 minutes long depending on the age of the children taking part in the lesson and will typically follow this structure:
Whole Class
Retrieval of new vocabulary from previous sessions and introduction of new vocabulary to be encountered in the lesson.

Introduce or revise lesson strategy / focus and stems

Teacher model the focus strategy through thinking aloud with displayed text.

Partners practising strategy
Independent or Partner Reading
Focussing on strategy with the support of their DR Bookmarks

Teachers monitor the ratio of reading and talk so that children build up reading stamina with longer texts

Teachers to focus on specific individual or small groups of children to support where needed or to target a specific gap in learning following analysis of test data.
After Reading
Celebrate good use of reading strategies

Children complete the Selfie task

Children evaluate their use of learning behaviours.
Each half-term, formative assessment is conducted across the school. The data from this is uploaded to the Insight tracking system and is then used to inform planning and allocation of further support or intervention; this ensures that all children continue to make good progress from their starting points.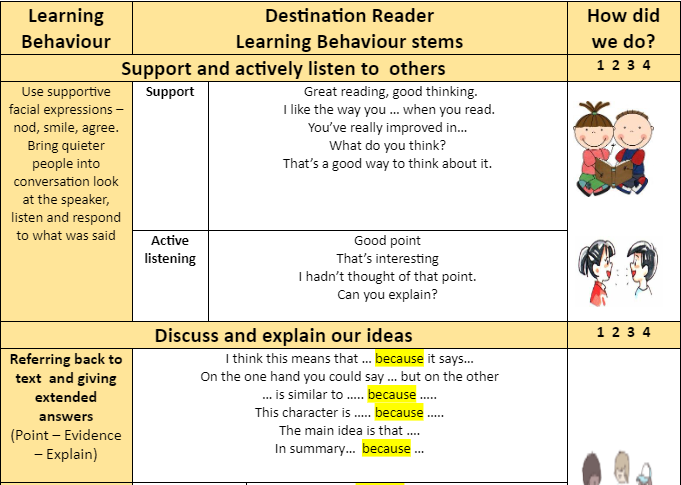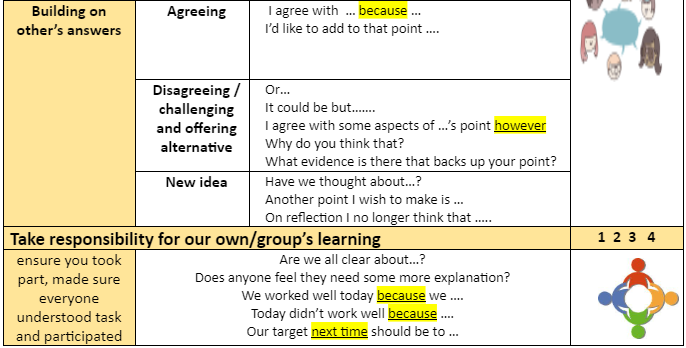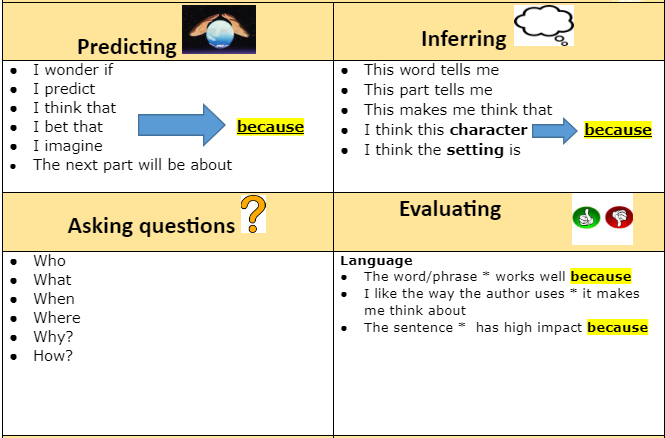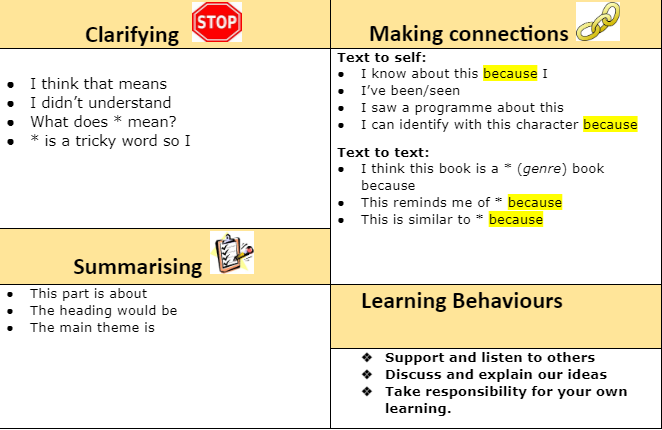 Upper Key Stage 2 Bookmark: